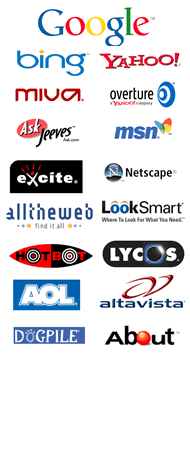 Search engines are the gateway to sales… the starting point for nearly 85% of all Internet users ready to make an online purchase. For advertisers, marketers and web publishers, search engines are the most cost efficient way to generate targeted online traffic.
dBase Media offers a balanced and measurable approach to successful search engine marketing. Put your message in front of potential customers actively searching for the type of products or services your company offers. The conversions on these qualified visitors are 4 times greater than that of passive Internet traffic. This highly coveted traffic converts better than most other marketing channels yielding the best advertising ROI for Direct Marketers.
dBase Media applies best search marketing practices for our clients in this complex industry to increase your rankings above and beyond others competing for the top search results. Our Search Marketing Tools help you deliver keyword-targeted search engine traffic directly to your site. Using our proprietary technology, your business is associated with relevant keyword phrases listed in the top search engines and directories including Google, Yahoo, Bing, AOL, Ask and many more.
Our services include keyword development, engine & site optimization and detailed reporting applying the following best practices:
| | |
| --- | --- |
| | Advanced Search Engine Optimization Strategy |
| | dBase Media uses advanced search engine optimization strategies by applying a semantic (LSI) and behavioral approach to keyword identification, meta tag title and description analysis, content optimization, engine site maps, keyword density analysis, link management, alt image tag analysis, RSS/Blog strategy, engine submission, weekly progress reports and more. This effort is necessary to gain favorable listings and targeted traffic from crawler based search engines such as Google, Yahoo, Bing MSN, All The Web and others |
| | Pay Per Click Management Strategy |
| | dBase Media also offers keyword bid management coupled with tactics used in our other programs (keyword identification, title and description construction and proper content targeting). We are a Google certified company which gives clients immediate access to this relationship and years of experience. You receive advanced Pay Per Click Management utilizing the top paid search engines. |
Contact us today for more information.